If you attend high school outside the United States, you may not immediately see any colleges offering micro-scholarships. This is because not all of our college partners offer scholarships to every country. As a result, you may not see any micro-scholarships listed, and when you search for colleges, you may not immediately see any results.
Even if you don't qualify for scholarships currently, you can use RaiseMe to learn about thousands of U.S. colleges' offered majors, financial aid programs, admissions, and more. Simply uncheck the "Awards Scholarships on RaiseMe" box on our college search page to explore!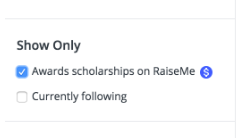 Be sure to Follow the colleges you're interested in!