RaiseMe's site has hundreds of colleges listed. Some are not yet partners, but over 250+ of them offer micro-scholarships via the platform.
To Follow a college, you can search for a specific college you're interested in, or discover colleges you may be unfamiliar with by navigating to our "Colleges" tab. When you navigate to a college's page, you will hit the blue Follow button like the one below.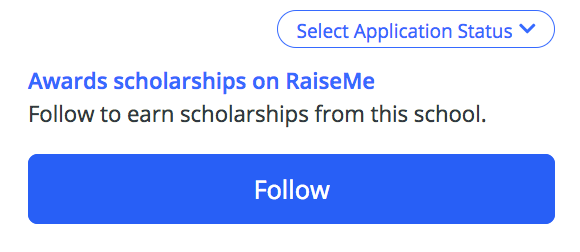 By Following a college, you indicate that you would like to earn scholarships from that college, learn more about them, and allow the college to learn more about you. They will gain access to basic information about you and your portfolio when you Follow them.
Why is Following so important?
Following a college is the crucial first step in earning micro-scholarships. If you are Following a school, you'll be able to see what potential micro-scholarship dollars you'd earn based on the achievements on your Portfolio.
Colleges have earning deadlines - a date when all senior Portfolios are submitted to that college. Learn more about them in this article (under Earning Deadline.)
You must be Following a college by their earning deadline in order to be eligible for Micro-Scholarships at that school.