RaiseMe's system includes nearly all US high schools, but there are a few reasons why searching for yours isn't bringing it up right away.
Step 1: Try the Street Address
This is the most likely way to find your high school if it's in our system. Try this first!
For example, let's say I'm looking for George Washington High School in San Francisco, CA. If I type "George Washington High School," there are too many options showing up that aren't the right one.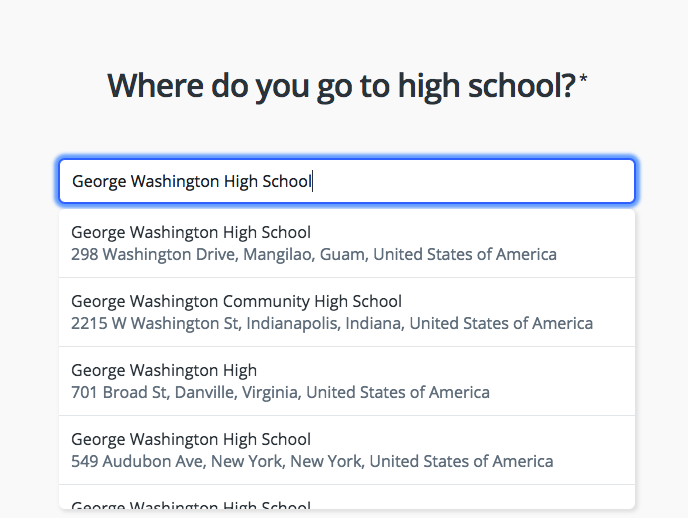 However, if I Google search and find the street address, and type that in instead (letter by letter) then the school should appear right away:

If the street address doesn't work:
Type slowly.
If your school is George Washington High School, try typing letter by letter and watching the drop-down menu to see what appears.
Try different versions and variations.
"Washington High School," "George Washington High, San Francisco," or leave out the words "high school." Or adjust the language you're using: like trying St instead of Saint, or HS instead of HighSchool.
Is your high school brand new?
If your school was opened this year (or very recently) then it may not be in our system. You should select "Search all schools in your area" and scroll through the list. If you still don't see it, please click "still can't find your school?" to request it be added to our system!

No luck finding it?
Request your high school by clicking "Still can't find your school?"